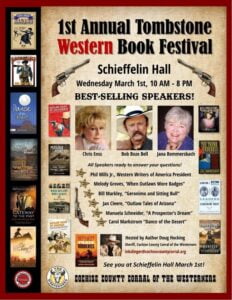 Finally, the town too tough to die, famous Tombstone, Arizona has its own book event. It will be held at beautiful Schieffelin Hall on March 1st from 10:00 AM to 8:00 PM.
Meet award-winning, best-selling authors, songwriters and recording artists. Famous True West Magazine icon Bob Boze Bell will be one of the outstanding speakers at this event. Meet New York best-selling author Chris Enss, the president of Western Writers of America association Mister Phil Mills and many other outstanding writers.
Not only are my books available as well but I can also share news about an upcoming movie project and new books coming soon in 2023 and 2024. Songwriter Carol Markstrom and I will be speaking about our short movie Miner´s Candle which has won over 25 national and international awards.
Come on over to famous Tombstone, Arizona and say howdy to the folks who keep the West alive.
See you at my home away from home.