Old Tucson Movie Studios, Arizona copyright by Manuela Schneider/2018
Many of us remember the times of playing Cowboys and Indians inspired by watching movies and series like Lone Ranger, Stagecoach, gun smoke, Bonanza and many more.
If you ever come to Arizona you should plan to spend a full day at Old Tucson Movie Studios where over 400 movies were shot and are still being filmed up to today.
Old Tucson was erected in 1939 when Columbia Pictures chose the Pima County-owned site to build a replica of 1860s Tucson for the movie "Arizona." The $2.5 million film, starring William Holden and Jean Arthur, set a new standard for Hollywood Westerns, moving away from studio movies to realistic outdoor shooting. Local technicians and carpenters built more than 50 buildings in less than 6 weeks. Even American Natives assisted set production. Without the convenience of running water, they made more than 350,000 adobe bricks from the desert dirt to create authentic structures for the film. Many of those structures still stand today.
For six years Hollywood then almost forgot about old Tucson Studios but remembered it when shooting a movie there with Cosby and Bergman and the movie set started to boom more than ever. It earned the nickname "Hollywood of the desert" during that time. During the 1950s the Western movie era was in full swing nationwide as well as in Europe. During that time Western classics such as "Gunfight at the OK Corral" (1956) with Burt Lancaster and Kirk Douglas, "The Lone Ranger and the Lost City of Gold" (1957) and "Cimarron" (1959) with Glenn Ford were filmed at Old Tucson.In 1959, Robert Shelton leased the property from Pima County and restored the aging facility. Old Tucson re-opened in 1960 as both a film studio and theme park. Western film legend John Wayne, who soon became friends with studio owner Robert Shelton, starred in four movies at Old Tucson: "Rio Bravo" (1959) added a saloon, bank building and doctor's office; from "McLintock!" (1963) came the McLintock Hotel; "El Dorado" (1967) left Old Tucson Studios with a newly designed front street; and from "Rio Lobo" (1970) came a cantina, a granite-lined creek, a jail and a ranch house.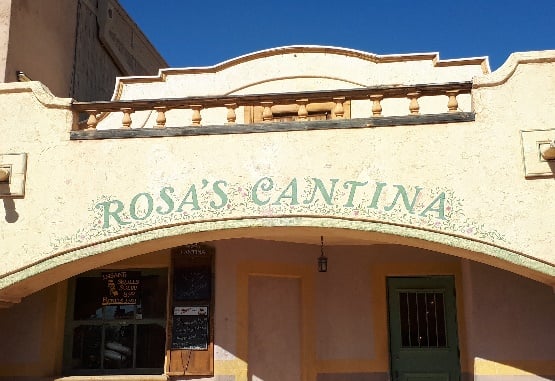 The desert climate helped not only with great weather for filming but also prevented buildings from rotting apart too fast.During the next decade, Old Tucson experienced an unbelievable growth. In 1970-71 alone it hosted 15 film productions including movies with Frank Sinatra, Clint Eastwood, Charles Bronson and Kirk Douglas to name but a few besides John Wayne of course. Between 1970 and 1980 Old Tucson and its second location 40 miles away from it, called Mescal hosted over 77 movie- and TV productions at the same time.
Some of my own childhood heroes such as the Ingles family from "Little House On The Prairie" or the men from "Bonanza" + "gun smoke" where broadcasted in Germany as well and surely lay the foundation for my dream to become a Western book author. It is a special feeling to walk the streets knowing Hollywood stars such as Elisabeth Taylor, Kenny Rogers, Ronald Reagan and Michael Landon walked the same dusty roads. Of course the world famous Western "Tombstone" with Kurt Russell, Val Kilmer and Sam Elliot where partly filmed there as well. A movie which inspires most of us up to this day and which has become a life philosophy for many of us.
But April 25th 1995 unfortunately a big disaster occurred. After a fire, caused by arson had raged through the park, it was a big challenge to restore what had been priceless to movie buffs around the world. Old Tucson responded to that challenge and only 18 months after the devastating fire that destroyed nearly 40% of the buildings, the park reopened.
Nowadays, nestled in the Tucson Mountains, surrounded by majestic Saguaros Old Tucson is about 13 miles West of the city Tucson and is open for public for 19,95 admission per adult, children between 4 and 11 years of age pay 10,95$.(Please google for actual rates as they may change). Great gun – and stunt shows are offered by an inspiring, talented team who dedicated their professional life to the Wild West. Dancehall girls and 3 restaurants, a cantina and an ice cream parlor as well a gift store complete the park.
The park is open from 10 am to 4 pm but closed during movie productions. Old Tucson Studios is accessible to handicapped visitors with special needs and handicapped parking is available. Wheelchairs are available for a small fee. Keep in mind that, as a western town, the streets themselves are dirt and sand. But people are nice and helpful as much as their show schedule allows. Parking is FREE+ Leashed pets are welcome! Families may carry picnic baskets (excluding alcoholic beverages) and enjoy their meal at any of the shaded picnic areas inside the park.
I will return to the dusty roads of Old Tucson and sniff the air of Western Movie history soon again and admit I never get tired of the place. Every building, although some of them re-built and the employees are inspiring to me in every way and a visit at Old Tucson always re-ensures me why I write Western books.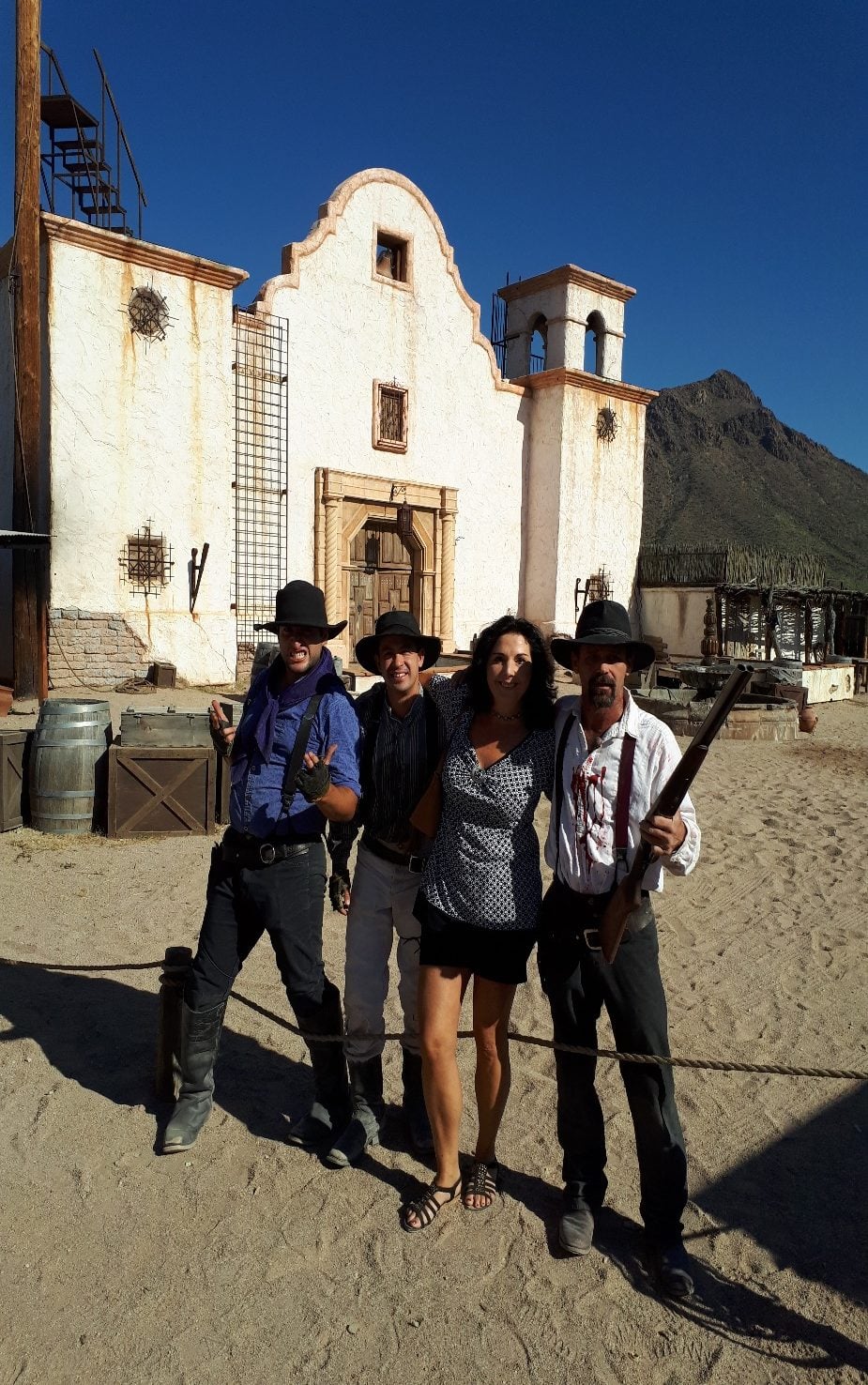 Here a short list of some of the over 400 movies and TV productions which were filmed at Old Tucson and Mescal (partner set):
Broken Arrow
Winchester 73
3:10 to Yuma (1956-57)
Gunfight at the OK Corral
The Hangman
Rio Bravo
Have Gun, Will Travel
Wagon Train
The Great Sioux Massacre
El Dorado
High Chaparral, (1966-71)
Bonanza (1966/71-72)
Hombre
Mountain Men
Rio Lobo
Showdown at the O.K. Corral
Yuma
Gunsmoke (1972-74)
How the West Was Won
Little House on the Prairie (1977-83)
The American Cowboy
Buffalo Soldiers
The Gambler with Kenny Rogers
Calamity Jane
I Married Wyatt Earp (Wife of Wyatt Earp)
Stagecoach
The Three Amigos
Billy The Kid
Desperado
Grizzly Adams: The Legend Continues
Young Guns II: Blaze of Glory
Tombstone …… and hopefully many more to come in the future.