Sedona is truly an unforgettable town of amazing beautiful scenery around it. Today I want to introduce a special district of Sedona called Tlaquepaque (pronounced T-la-keh-pah-keh). It is Sedona´s Arts & Crafts Village. Nestled beneath the shade of the sycamores on the banks of beautiful Oak Creek Tlaquepaque is the most distinctive Sedona shopping experience to be found in the Southwest. But not only that. It is a meeting place for artists and tourists, a place for dining out or for taking strolls through the beautiful buildings. Authentically fashioned after a traditional Mexican village, Tlaquepaque, meaning the "best of everything," has been a Sedona landmark since the 1970's.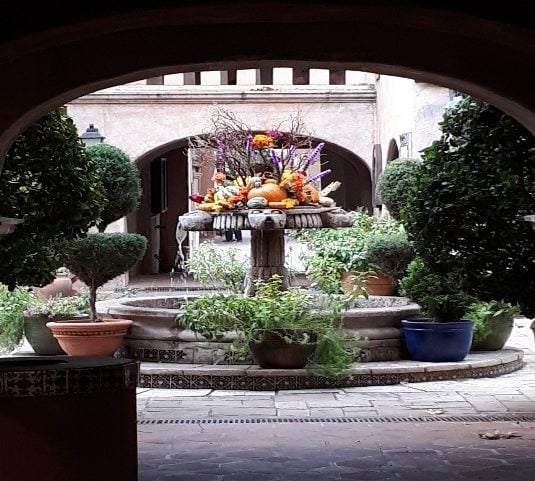 Its vine covered stucco walls, cobble-stoned walkways and magnificent arched entryways give you the feeling of being at another place another time. It is tranquil. The perfect spot to unwind and simply just relax. I have been there at least 5 times and never grow tired of its beauty.
Tasteful galleries and unique shops live in harmony with its lush natural environment. Shadowy places, benches, coffee shops can be found throughout the whole district.
Originally conceived as an artist community, Tlaquepaque is a perfect setting to witness gifted Sedona artisans and watch them creating the most outstanding pieces of art.
With over 50 specialty shops and exclusive art galleries, shopping becomes a joyful revelation of fabulous art treasures and distinctive gifts on every budget.
Western art, bronze sculptures, ceramics, paintings, jewelry, weavings, glass arts and so on. You name it, you find it there.
I personally always would love to take a truckload of arts with me if my bank account and the airline would allow it but I find something small and nice every time I go there and take a piece of Sedona with me to to create my Southwest atmosphere back home in Europe.
There are 4 great restaurants. My favorite as a German is of course, the brewery at Tlaquepaque with different draft beers, home brewed beer and of course a very yummy menu.
In 1970 the place was modeled after Guadalajara and somehow the people who planned and built it achieved the goal to make it look old and as if it sits there since centuries.
People often wonder about the weird name which I admit was hard for me to pronounce the first year of my visits. The name Tlaquepaque derives from Nahuatl which is an Aztec language and means "place above clay land". The area is famous for its pottery and blown glass so the name matches.Tlaquepaque features El Parián, a large plaza flanked by columned arcades and surrounded by restaurants and bars. The main square in the center is known as El Jardín Hidalgo ("Hidalgo Garden"), named after Miguel Hidalgo y Costilla, the "Father of Mexican Independence." A larger-than-life statue of Hidalgo dominates the square. There are two churches, El Santuario de Nuestra Señora de la Soledad (The Sanctuary of Our Lady of Solitude) and San Pedro (Saint Peter), and the Benito Juárez market.
It is always beautifully decorated according to the season and weddings are held there quite often.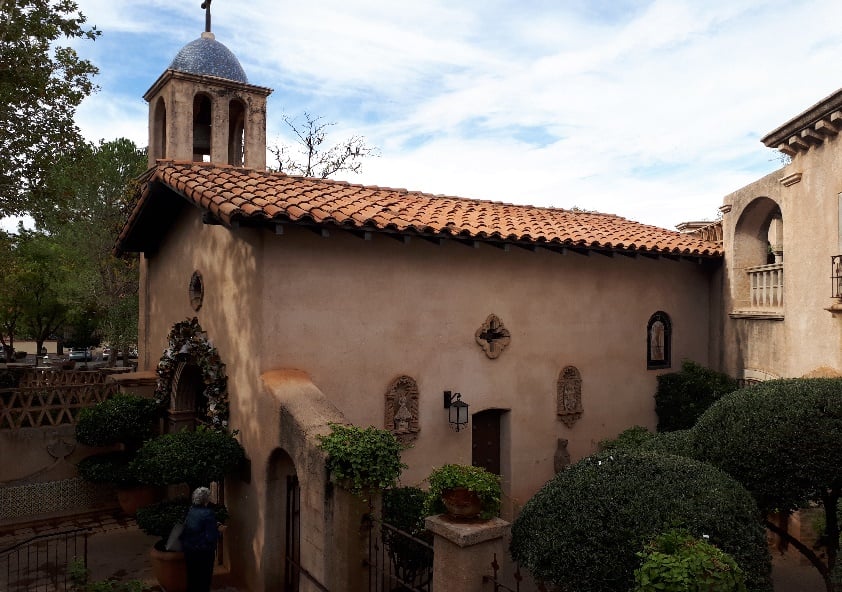 Tlaquepaque is known for its mariachi bands as well. During the annual San Pedro festivities, El Jardín is filled with stalls and street sellers. On the day of San Pedro itself, towering firework-festooned structures known as the Castillo ("castle") and Toro ("bull") are set alight. The festival del Muertos is another traditional highlight to see there. Please Google for annual dates.
I can only highly recommend a stay in Sedona Arizona and its amazing Tlaquepaque art community. It is an outstanding place to be. Visitors are international and what I really love about the place is that everybody seems to unwind there. The often too loud and rowdy behavior of nowadays tourism often vanishes completely at Tlaquepaque. It is a true Oasis yet very close to the town center of Sedona. I plan my next stay in 2 months. For me it is a must every time I touch down in beautiful Arizona.